Get Used tail lights from the best Online auto parts store in the USA
 Auto Vehicle Parts have a large variety of used tail lights assembly parts. Get quality car tail lamps delivered to your doorstep.
Upgrade Your Car Safety With Used Tail Lights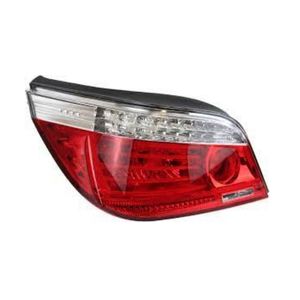 Tail lights are attached to the back of the vehicle, above the bumper. Vehicle tail lights are typically red, with white lights beside them to imply when the car is in reverse. Tail lights alert other drivers to your presence when you're driving, allowing you to commute safely in the dark.
Thus, if your car has non functional tail light it advised to replace it ASAP. If you have a low budget then going for used tail lights is a better option. Auto vehicle parts offers huge range of used tail lights at affordable prices.
A Wide Range of Aftermarket Tail Light Parts
Lens
It protects the bulbs and produces the required color, typically red or amber, depending on the function of the light.
Brake
Brake lights, also known as car back lights are essential because they alert other drivers that you are slowing down.
Lamp
Auto parts tail lights are available in various shapes and features on Auto Vehicle Parts.
Passenger
Passenger side tail lights or right rear tail lights ensure that you and your passengers are paying attention to the road and effectively communicating with other drivers on the road.
LED
Improve your vehicle's visibility as compared to factory-installed LED tail lamps in BMW, LEXUS, FORD, and MERCEDES at your budget.
Driver
Driver side tail lights aid in displaying the vehicle's rear edge, allowing other drivers to gauge the shape and size of your car accurately. Auto Vehicle Parts will help you get all you need for auto tail light assembly.
What Causes Replacement of Your Tail Lights?
There are several reasons that can cause the replacement of your tail light.
Some bulbs have a lifespan of five to six years (incandescent, traditional bulbs). LED bulbs have an average lifespan of 12 years or more. Thus, when a tail light bulb has completed its life, then it gets dead. Therefore, you will need a replacement. 

The amount of voltage sent through the wiring is another factor that may influence the life of the tail light. When a voltage supply exceeds its threshold value, it fuses the tail lamps.

Also, your tail lights get broken in accidents causing you to replace your tail lamps.

Also, all vehicles must have a functioning tail, brake lights, and tail light assembly parts by law. It will prevent you from getting a ticket.
Essential Factors To Look Before Buying Used Tail Lights
Examine your owner's manual: You must know your vehicle's make, model, and year. This information decides what kind of bulb is required. If you buy the wrong bulb, it may not work, or it might damage the light fixture.
Can you upgrade: Determine whether your lights can be "upgraded." The tail lamp bulb that came with your vehicle is the factory standard. It's possible that you can upgrade it to a more modern option that's brighter and lasts longer.
Remember that your tail light is not an area where you want to save money; instead, it is an area where you should invest in high quality used tail lights because your safety depends on it.
What Is the Price of a Tail Light Replacement?
The repair will usually cost between $20 and $100.If it's the lens, the wiring, or an entirely new tail light assembly, the new price range for tail lights price 2022 is $200-$2000. The final price is determined by the labor cost and the parts and equipment used.
The cost of replacing the tail lights will vary depending on the make and model of the vehicle. When you hire a mechanic, it depends on who you go to, but they'll charge you much less than a dealership to fix the tail light.
Huge Stock of Used Tail Lights at Auto Vehicle Parts
FAQs
Frequently Asked Questions
The primary distinction between tail lights & brake lights is that tail lights illuminate as quickly as the headlights are turned on, whereas the brake lights only activate when the braking pedal is pressed. 
The tail lights on most vehicles are red, while the brake lights are brighter red. The rear lights also have white backup lights.
If you are replacing your tail lights, then ensure it is durable, the bulb is of good quality, and the color is as per your local laws. 
Why Is Auto Vehicle Parts The Top Choice?
Auto Vehicle Parts has the best-used auto parts in the market. I have been their customer for the last five years. The prices are slightly better than other stores. They usually deliver parts in 2 days. They never had any quality-related issues. I recommend them.   
Auto Vehicle Parts provides a very hassle-free service. I ordered my car parts, and they delivered them quickly. The used tail light parts for my Impala were of great quality. Undoubtedly, I will choose Auto Vehicle Parts again to buy any used auto parts.
Tail Light